oldParasiteSingle: Mom asked me last night what it was like to protest Apartheid. In the 1980s I had attended & participated in large protests in Champaign, IL; in Chicago; and in Washington DC. In DC I purchased a copy of the famous Keith Haring poster. I had already sold my original signed one from his New York studio to pay off fines. In the early 1990s I had had mom laminate the DC protest one for the memories, which she remembered doing (I hadn't.) The DC protest poster is still in my storage shed out back in our Backyard Jungle, moldering with my college textbooks & old clothes.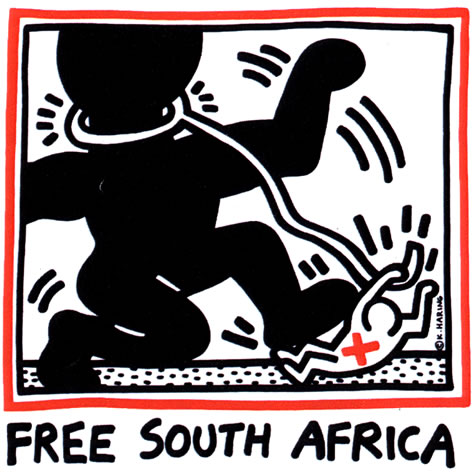 Anyway when mom jogged my memory of prior activism last night, I told her what I could remember. The anti-Apartheid demonstrations in the 1980s were among the largest & most widespread ones I've ever witnessed. "It was happy. The cops were on their best behavior, because the politicians were with us. They never knew if someone they were arresting (in front of the South African embassy) might be extremely important or famous. We had US Senators with us.." So the cops were typically on their best behavior". I saw several black policemen arrested. I remember spotting Ted Kennedy getting arrested there after getting out of the limousine. Mom asked if MLK had been arrested with us. "He was assassinated back in '68 before I was born, mom. But Jesse Jackson was there, yes"
   Mom then asked if anti Apartheid protests lasted for days. I replied, "No, typically they were over fast (like MLK civil rights demonstrations), because the demonstration permits would run out at sunset." Actually, in retrospect I think I do remember attending 8 days of protests in DC. But that was a one time thing to put pressure on Congress, ordered by the black Congressional caucus. Most likely that is when I picked up the Haring poster. Mom remembered it & I didn't, possibly because I had charged it to her credit card or something. She had remembered paying my bill back in the 1980s (: I always forget
Update: I forgot to mention several things both here & last night that I also remembered that set Apartheid protests apart. The anti Apartheid protests had some of the most impressive art & puppets that I have ever seen in any protest. There were thousands of kids & teen activists participating among the petition signers. Hundreds of clergy marched in DC with arms locked. There were even stilt walkers & clowns among the usual jugglers. All I mentioned to mom about this last night was "Irish Catholics were there too" for the clergy & "big puppets" for the artists. I also remember seeing several bearded rabbis arrested as well as having spoken to some short Jewish bankers in the crowds. The bankers were among the best dressed there.